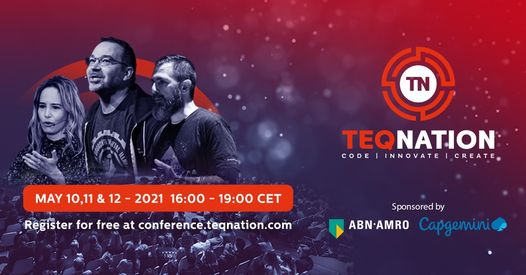 Volgende week is het zover: TEQnation 2021
Volgende week Maandag 10, Dinsdag 11 & Woensdag 12 Mei 2021 is het zover. TEQnation 2021. 
TEQnation 2021, het grootste developers event van Nederland (1.000+) zal dit jaar volledig digitaal
gaan plaats vinden. Drie middagen van 16:00 – 19:00 bieden een boordevol programma met deepdive sessies,
keynotes, workshops, netwerkcarousel, exposantenplein en een heuse muzikale digitale afsluiter op de woensdagavond.
TEQnation 2021 Digital, het event voor en door developers, richt zich op kennisdeling. Software development
en disruptive technologies als Artificial Intelligence & Machine Learning, Iot & Embedded, Methodoly &
Culture, Modern Infrastructure, New & Cool and Security zijn de topics die tijdens dit drie-daagse event
online de revue zullen passeren.
Keynotes van oa Henk van Ess ( Detective bij het  Bellingcat collectief,) Anne Feringa, Giuseppe Guida and
Wesley Delpeut (ABN AMRO) en deepdive sessies en workshops van oa Joanna Krajewski (Machine Learning),
Saskia Groenewegen ( VR/AR), Rob Knight (Kubernetes), Shira Shamban (Security), Nadia Alshahwan
(Facebook), Craeme Rocher (Oracle) en nog veel meer . Het event wordt mede mogelijk gemaakt door
partners als ABN AMRO, Capgemini en Oracle.
Verbeter je skills en  deel je passie. Code, Create and Innovate! Join the buzz tijdens TEQnation 2021.
Ben je een professioneel software ontwikkelaar? Dan mag je TEQnation 2021 absoluut niet missen.
Schrijf je (gratis) in via  Homepage | TEQnation – Code.Innovate.Create | May 10-12, 2021 TEQnation – Conference