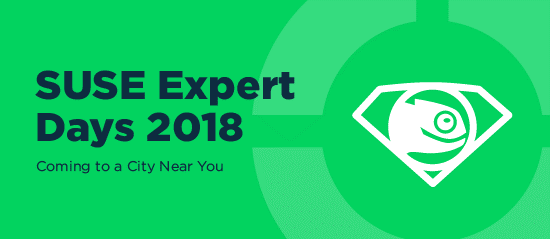 Een datacenter beheren en up-to-date houden is een teameffort!
Daarom nodigen we jou én je collega's graag uit om op 27 Maart naar Amsterdam te komen. Daar vind je experts die vloeiend zijn in de taal van het toekomstige datacenter, open-source kampioenen en branchedeskundigen!
Alle Experts op een Rij:
Micheal Miller | President of Strategy, Alliances and Marketing
Rob de Canha-Knight | EMEA Platform and Management Technical Strategist
Pieter Jenniskens | SUSE Enterprise Architect
Tom d'Hont | SUSE Sales Engineer
Hein-Pieter van Braam | Expert System Engingeer | TomTom
Hans Bos | National Technology Officer | Microsoft Netherlands
Let's talk about tech!
Want daar draait de hele dag om. Technologiën die de revue die dag passeren:
Linux

Ceph

OpenStack

Kubernetes

Blockchain

Salt

En meer…
Zien we jou en je collega's 27 Maart in Pakhuis de Zwijger?
Tot dan.
SUSE team Benelux