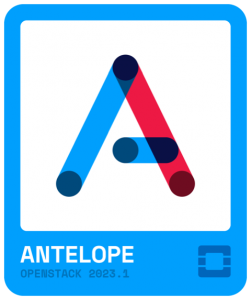 OpenStack lanceert Antelope release terwijl users wereldwijd LOKI omarmen als de OpenInfra Deployment standaard
De OpenStack community kondigt vandaag de release van Antelope aan, de 27e versie van OpenStack is een centraal onderdeel van LOKI (Linux, OpenStack en Kubernetes Infrastructure), de open source standaard voor het runnen van moderne cloud infrastructuur. In Antelope leveren OpenStack contributors een groot aantal verbeteringen voor de snel groeiende user base van de software (166% toename in computer cores sinds 2020), waaronder: een nieuwe release frequentie, sterkere integratie met Kubernetes en andere open source technologieën, en uitgebreide ondersteuning voor geavanceerde hardware.
Antelope is de eerste nieuwe release die is ontworpen om de eisen aan operators om elke zes maanden te upgraden, te verlichten. Er kan nu gekozen worden voor een upgradecyclus van één keer per jaar, met een upgrade per Skip Level Upgrade Release Process of "SLURP" release. Antelope is een SLURP-release. OpenStack Bobcat, de 28e release van OpenStack, is een niet-SLURP-release die gepland staat voor oktober 2023.
***OpenStack Antelope is hier te downloaden***
Het volledige Engelstalige persbericht is hieronder te lezen. Ook kondigde OpenInfra Foundation nieuwe Associate Members aan, te weten Python en Rust Foundations. Het persbericht daarover is hier te lezen.  
OpenStack 'Restarts the Alphabet' with Antelope Release as Users Worldwide Embrace LOKI as the OpenInfra Standard of Deployment
OpenStack contributors deliver a host of enhancements to support rapidly expanding user base: new release cadence, hardware enablement features, stronger integration with Kubernetes and other open source technologies
AUSTIN, Texas — March 22, 2023 —The OpenStack community today released Antelope, returning to "A" in its alphabetical release-naming protocol as it issues the 27th version of the world's most widely deployed open source cloud infrastructure software. OpenStack is central to the LOKI trifecta (Linux, OpenStack, and Kubernetes Infrastructure), the open source standard for running modern cloud infrastructure. In Antelope, OpenStack contributors deliver a host of enhancements to the software's rapidly expanding user base (166% increase in compute cores since 2020), including: a new release cadence, stronger integration with Kubernetes and other open source technologies, and expanded support for advanced hardware.
New Release Cadence
Antelope is the first in a new release cadence designed to ease the demands upon operators to upgrade every six months. Deployments will now be able to opt into a once-a-year upgrade cycle, upgrading with every Skip Level Upgrade Release Process or "SLURP" release. "Not-SLURP" releases will be available in each six-month interim for those who wish to upgrade more frequently. Antelope is a SLURP release; OpenStack Bobcat, the 28th release of OpenStack, is a non-SLURP release slated for October 2023.
"Red Hat's customers demand that we strike a balance between stability and recency. To meet their needs, our OpenStack distribution had pivoted away from twice-yearly releases in favor of less frequent upgrades spanning multiple upstream versions," said Eoghan Glynn, director of OpenStack engineering at Red Hat. "The Antelope release marks a new era for us, with community support for testing compatibility between non-adjacent versions under the new SLURP cadence. The flexibility shown by the community in reaching this compromise shows how resilient the OpenStack project continues to be, as usage of our awesome technology evolves."
Integration with Kubernetes
According to the 2022 OpenStack User Survey, Kubernetes is now deployed on over 85% of OpenStack deployments: 73% through vanilla Kubernetes itself. The rise in OpenStack and Kubernetes production integrations is further documented by an increase to 21% (up from just 16% last year) of users running production workloads with Magnum, the OpenStack service for container orchestration.
In Antelope, Magnum has been updated to support Kubernetes v1.24 running on Fedora CoreOS 36 and 37. Magnum has also been recertified as a Kubernetes orchestrator, passing the software conformance testing hosted by the Cloud Native Computing Foundation (CNCF). This certification ensures that every vendor's version of Kubernetes supports the required APIs; for organizations using Kubernetes, conformance enables interoperability from one Kubernetes installation to the next.
Hardware Enablement
In Antelope, OpenStack contributors continue to expand support for new hardware. For example:
– Cinder added new backend drivers (HPE XP iSCSI and FC, Fungible NVMe-TCP, NetApp NVMe-TCP storage drivers) and added features to existing vendor drivers.
– Ironic can now export application metrics from the ironic-conductor service into Prometheus, alongside hardware metrics. Previously these were only accessible via statsd.
"With OpenStack deployments growing exponentially, our community has provided in the Antelope release not only the maintenance required to uphold OpenStack's reputation for stability but also expanded support for new hardware and software integrations," said Kendall Nelson, senior upstream developer advocate at the OpenInfra Foundation. "The Antelope release reflects this, for example, in security enhancements in Neutron and Glance, the hardware enablement advancements in Cyborg, and the recertification of Magnum as a Kubernetes orchestrator. We are grateful for the dedicated developers who keep OpenStack at the forefront of cloud computing and to the committed organizations who support their efforts."